Squires Ink | Inkcare Essential Tattoo Care Pack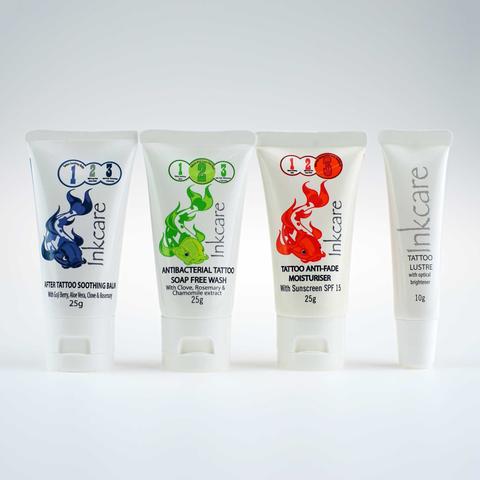 Squires Ink | Inkcare Essential Tattoo Care Pack
The Essential Tattoo Care Pack - caring for your tattoo is as easy as 1,2,3 with this comprehensive kit. Use the Inkcare™ Premium Tattoo Aftercare 3 Step Process for a simple worry-free solution to tattoo aftercare.
The pack contains:
Inkcare After Tattoo Soothing Balm 25g. This product is formulated to ensure the best possible results in terms of stabilizing the ink in the dermal layer of the skin during the critical healing process.
Inkcare Antibacterial Soap Free Tattoo Wash 25g. Use this mild not irritating soap free wash during the healing process to cleans your tattoo. This wash will not dry out the skin, will not dilute the ink and has ingredients designes to calm and heal the tattoo.
Inkcare Tattoo Anti-Fade Moisturiser SPF 15 25g. Use this product after your tattoo has healed for the first 45 days of the tattoo. This Moisturiser with Sunscreen does not contain drawing agents and will moisturise and protect your tattoo from damage in the first critical 45 days while the ink stabilises.
includes Bonus Inkcare Tattoo Lustre with Lipolight Optical Brightener. For when you want your tattoo to "Pop" Highlights colours and glows under UV lights. For use AFTER the tattoo has healed.